Watches may be water resistance but never water proof.
Water resistance is measured in PSI's (pounds per square inch).  The units in which pressure is measured are BAR or ATM (atmospheres).
One BAR = one ATM = 10 meters water resistance.
If a watch is water resistant to 50 metres, it means that the watch can safely withstand the pressure of a still watch below the surface.  However, if you were to move the watch, e.g. when swimming, you would be exerting a lot more pressure on the watch.
This is why it is important for you to understand that even thought a watch may say water resistant 50 metres, it does not mean that it is recommended to wear the watch at that depth.
Watches that are not marked as water resistant should never get wet and should not even be worn while playing sports.
Watches which are marked as water resistant without a depth is only water resistant for accidental contact with water.
The crown should never be pulled out when the watch is wet.
Watches exposed to salt water should be rinsed in fresh water afterwards.
The watch should be serviced regularly.
Battery replacement on a water resistant watch must be done by a watch maker.
Please see the Water Resistance Chart below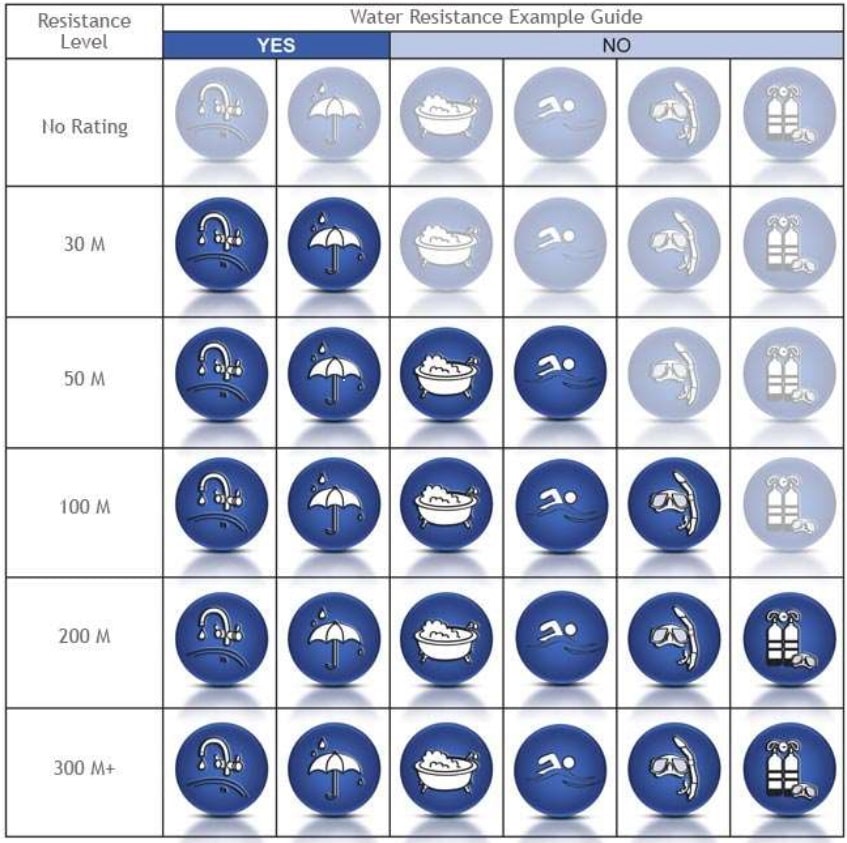 But square-cut or pear-shaped, These rocks don't lose their shape. Diamonds are a girl's best friend. Marilyn Monroe