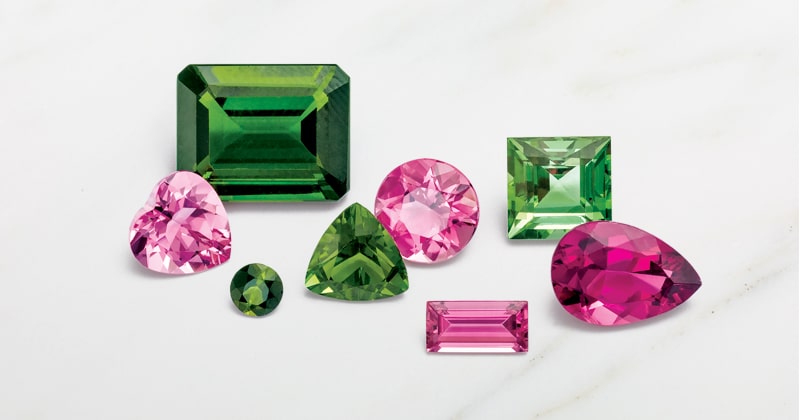 OCTOBER BIRTHSTONES – TOURMALINE AND OPAL
A birthstone is a gemstone that represents a person's period of birth that is usually month or zodiac sign. It's often worn as jewellery or as a pendant necklace. In this article we focus on Tourmaline, birthstone for the month of October and one of the world's most popular gemstones.
Tourmaline is a crystalline boron silicate mineral compounded with elements such as aluminium, iron, magnesium, sodium, lithium, or potassium. It is classified as a semi-precious stone. The wide range of compositions and colour zoning within crystals causes tourmaline to occur in more colours and colour combinations than any other mineral group and can sell for thousands of dollars.
Brazil has been the world's leading source of tourmaline for nearly 500 years.
People have probably used tourmaline as a gem for centuries, but until the development of modern mineralogy, they identified it as some other stone (ruby, sapphire, emerald, and so forth) based on its colouring. Tourmaline stone was first discovered by Dutch traders off the West Coast of Italy in the late 1600's or early 1700's.
At the time, these green tourmalines were assumed to be emeralds. Only in the 1800s scientists realized that these stones were their own species of mineral. People easily confuse tourmaline with other gems. Tourmaline's biggest market at the time was in China. Tourmaline was prized as a gem through history, but her main admirer was Tzu Hsi, the Dowager Empress who ruled China with an iron hand from 1860 until her death in 1908.
The last Empress of the Ch'ing Dynasty was so passionate about this stone that she bought huge quantities of it, mostly of pink colour from mines in California, discovered during her reign. The stone was used mainly in carvings, watch chain bars or jacket buttons worn by the Imperial Court and some wealthy personalities.
At one time in history, pink and red tourmalines were thought to be rubies. Pink tourmaline tends to be pinker in colour than ruby. However, their similarities in appearance are so strong that the stones in the Russian crown jewels believed to be rubies for centuries are now thought to be tourmalines. The supply of tourmaline began to expand during the first half of the twentieth century when Brazil yielded some large deposits.
Since the late 1980s, the Paraíba area of Brazil has been known as a source of strikingly intense tourmaline colours, called Paraíba tourmalines. Now mining of tourmaline takes place all over the world. Active mines can be found in Africa, Afghanistan, Australia, Brazil, Burma, Canada, Elba, India, Kenya, Madagascar, Mozambique, Namibia, Nepal, Nigeria, Pakistan, Russia, Siberia, Sri Lanka, Switzerland, Tanzania, Thailand, and the USA.
Ancient Legends and Beliefs
The ancient Egyptians had a legend about tourmaline gemstones. They believed that these stones got their amazing colours because they broke through a rainbow while pushing their way up through the earth.
They used tourmaline for both physical and emotional remedies, calling it a "receptive stone," which means it is soothing, calming, inward, and magnetic, promoting meditation, spirituality, wisdom, and mysticism. It creates peace and promotes communication between the conscious and unconscious minds, allowing psychic awareness to blossom. They firmly believed that tourmaline could heal the nervous system, blood diseases, and lymph glands, anxiety, blood poisoning, arthritis, and heart disease.
Far Eastern medicine used the healing powers of tourmaline to treat all illnesses. Tourmaline is still believed to have healing powers in modern alternative medicine.
If you need some inspiration for the ultimate meaningful birthday gift, a jeweller at Francois Jewellers is waiting to assist you in custom designing your next piece of Tourmaline Jewellery. Visit our ONLINE SHOP to see a variety of more than 4000 jewellery items and have your purchase delivered to your doorstep.
Click here to view our Birthstone Chart and see which month each stone represents.