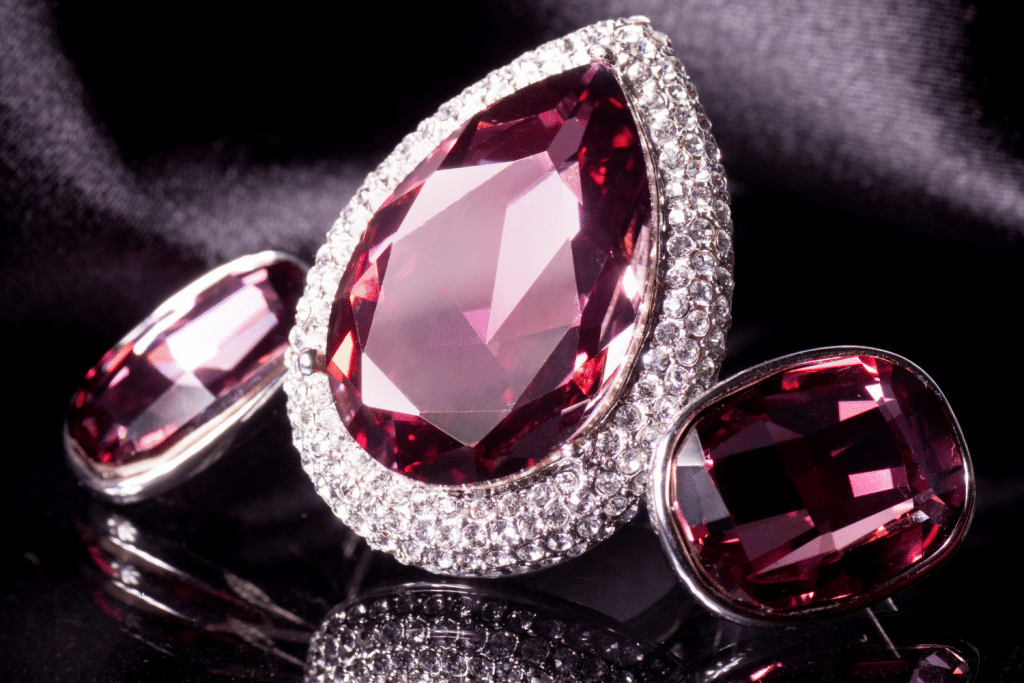 JULY BIRTHSTONE-THE RUBY
In this article, we will be looking at the Ruby as the gem for July. This precious stone derives its name from the word "ruber", which is the Latin word for "red".
The Ruby is known as one of the traditional Cardinal Gems, which is grouped amongst the most precious alongside Amethyst, Sapphire, Emerald and Diamond.
History of the Ruby:
Throughout ancient and more recent history the Ruby has been a prized possession. This beautiful gem is mentioned in many ancient writings like the Bible and historical accounts of Pliny. In ancient Sanskrit, the Ruby is described, almost poetically as "The king of precious stones".
There are historical accounts of Rubies being mined in China and shipped along the Silk Route around 200BC and accounts of Rubies being mined in Burma (Myanmar) since 600AD.
The deep red colour inspires love, passion, commitment and to the ancients, the Ruby was even kept as a lucky charm for true love, life and protection.
Some famous Rubies in the jewellery world are the "Liberty Bell Ruby" which was the largest Ruby ever mined, the "Sun Ruby" which was the most expensive Ruby ever sold fetching a price of $30 Million and the "Black Prince Ruby". One of the most famous Ruby jewellery pieces in our more recent past is the "Burmese Ruby Tiara" that was crafted for Queen Elizabeth.
Where Rubies are Found:
Rubies have been mined from the beginning of ancient times in Burma (Myanmar) and China. Today Rubies are still mainly mined in Myanmar (Burma) with significant mines in Thailand and more recently mines producing large quantities of Rubies in Madagascar.
Ruby Colours:
Rubies range in colour from pale pink to deep blood-red, depending on the presence of chromium in the gem, meaning there is a wide variety of choice when selecting a Ruby.
One of our jewellers will be glad to help you choose your desired colour when planning to custom make any Ruby Jewellery.
Ruby Jewellery:
If your partner is born in July or perhaps your anniversary is in July, consider a Ruby Ring, or a set of Ruby Earrings, Ruby Cufflinks or more from the wide range of Ruby Designer Jewellery offered at Francois Custom Jewellers in Pretoria, Gauteng.
Perhaps you have a night at the ballet planned or big date to re-win your partner's heart. Consider Francois Jewellers where many years of experience in jewellery design and service in the jewellery industry come together to make your jewellery experience one to be remembered.
Caring for Your Rubies:
In general, put your jewellery on after applying makeup, to prevent cosmetic powder or lipstick and other cosmetics from smudging or dulling the shine of your prized Ruby Jewellery. Do not use not use mechanical jewellery cleaners or ultrasonic cleaners unless your jeweller at Francois' Jewellers assures you of its safety.
It's usually safe to use a mild soap to clean and then a soft felt-free cloth to shine by rubbing your Ruby Jewellery gently.
If you're not sure of the correct care option for your Ruby Jewellery, please feel free to drop off your jewellery items at Francois Jewellers for quick polish before your next big event.
Click here to view our Birthstone Chart and see which month each stone represents.